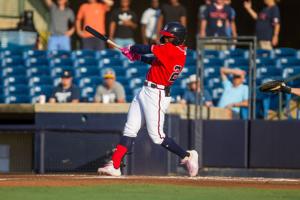 Rome Braves look set to turn a rough journey as the team travels to Hickory, North Carolina, to fight the Crawdads in a six-game series starting Tuesday. Rome have lost seven consecutive games, including a move by Greenville Drive last week in South Carolina.
Saturday: Greenville 11, Rome 3
Saturday's competition in Greenville became unforgettable for the road team. Despite being the first to jump at the scoreboard with Michael Harris II's sixth home run this year, Drive scored four runs in the bottom half of the first inning.
Offensively, Stephen Scott and Joe Davis walked on Drive, combining 5 for 9 with two home runs and seven RBIs. Scott's triple kick at the bottom of the first would prove to be a winning hit.
Looking up, Rome starter Coleman Huntley struggled, throwing in four innings in which he conceded six goals, five running runs and four strikeouts.
Andrew Moritz and Harris both hit RBI pairs to cut the edge of Greenville to 5-3, but Drive regained his four-race advantage when Davis hit Homer with two rounds over the wall in the center-left to score 7-3.
Sunday: Greenville 2, Rome 1
Tyler Dearden's double RBI at the bottom of the seventh inning scoring Jake MacKenzie secured the winning goal and momentum of the series in South Carolina.
Sunday's final was a duel between Rome's AJ Puckett and Greenville Brandon Walter. Puckett shared 5 2/3 shifts allowing four goals, one run, two walks and five strikes, while Walter's five shifts consisted of one goal, no running, two walks and five strokes.
Rome first jumped to the top of the sixth inning when Michael Harris II hit his 19th double this year on the left field, scoring Luke Waddell for a 1-0 lead. Stephen Scott's sixth home run of the season tied the game in the bottom half of the substitution.