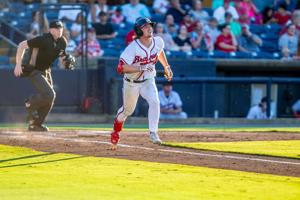 Rome Braves lost a duo against Greenville Drive on Wednesday at State Mutual Stadium, managing to score just one result in just 14 innings. The Braves remain without a win against Drive in August.
Wednesday: Greenville 1-0, 8-1
Drive brought out the bats in the game one of the two-headed, eventually retiring late for a big win.
Elih Marrero got Greenville first on the scoreboard at the top of the second inning with one RBI for the field to the right. Marrero finished the first game with three RBIs.
Jesse Franklin V recorded a lone RBI for a Braves foul with a double score at the bottom of the fourth inning, scoring Michael Harris II to reduce Greenville's edge to 3-1.
However, Nick Sogard's grand slam at the top of the sixth inning nullified any hope of a return in the first game.
Greenville's Jay Groome is achieving his second win of the year after sharing six baseball substitutions with four goals, one hand with two allowed moves and four strikeouts. Roma's starting pitcher, Jake McSteen, recording his third loss of the year, came out after four innings. He conceded six hits, three drives (one earned), two walks and four strikeouts.
In the second game, Roman starting pitcher Tanner Gordon went through six stellar substitutions but ended up losing.
Stephen Scott's RBI single at the top of the third inning would be all the offense Drive should have to win 1-0. Gordon gave up just three goals in one move and five punches.
In the attack, the Braves' bats could not help Gordon, collecting only two goals in the nightcap.
At the end of the seventh inning, Garrett Saunders scored his first three of the year with two outs to bring the equalizer to 90 yards. But Greenville's Zach Bryant hit Brett Langhorne to finish the game as Drive secured its eighth straight victory over the Braves.
Rome and Greenville continue their series at State Mutual until Sunday.