Overview
Snowy mountains! Spacious sky! If you are one of the craving masses for an escape from the city crowds, this is the best opportunity to take advantage of part of this trip. Mount Tochal is one of the tourist centers on the edge of Tehran in the Alborz Mountains at an altitude of 3964 meters. Every weekend people travel there to climb the mountain to enjoy the stunning views of Tehran. During this trip you can enjoy using the Tochal Telecabin, the longest gondola route in the world, 7500 meters long. During this trip you can ski on the slopes of Tochal in the ski resort Tochal, which is one of the best ski resorts in Iran which lasts from mid-November to May. We also offer you an overnight stay in one of the highest mountain hotels in the world Tochal.
Is this a trip for me?

Travel style: Active
Hiking, trekking, cycling, rafting and kayaking adventures around the world are aimed at outdoor species
Service level: Camping
Camping most nights with some hotel stays to start and all the time; affordable public and private transportation
Physical grade: Challenging
Serious hiking at altitude, cycling or other cases of heavy exercise. Come ready to sweat a little
Tour details:
Place of departure: The lobby of your hotel
Departure date: Every day
Departure time: At 7:00 in the morning (be ready 15 minutes behind schedule)
Return time: Around 5 p.m.
Primary transport vehicle: Tourist vehicle
Country visited: Tehran
Most activities: between 5 to 7 hours of climbing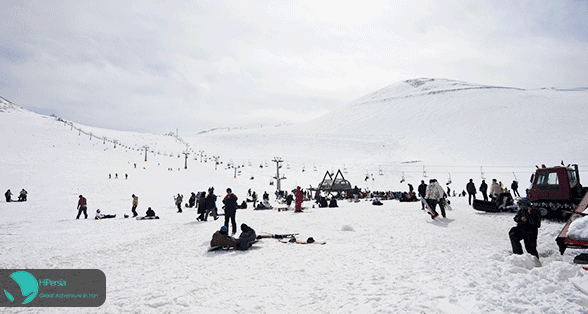 Trip plan:
Day 1

: Tehran

Hike the northern slopes through Jamshidieh Park to climb Mount Kolakchal on your way to Mount Tochal. Take a refreshing break near the Shirpala Shelter, then continue your climb with scenic views of Tehran city. Keep climbing to the top. Appreciate the beautiful view of the Alborz Mountains before descending to the Tocahal gondola (station 7) Opt for skiing at the Tochal ski area. Then enjoy Bam-e Tehran and relax.
Try it as private!
Book this tour as a private departure with your guide and all the benefits of a HiPersia group tour for any group, large or small, even just one traveler (any day).
By booking or participating in the tour and any related products or services with HiPersia Inc. you acknowledge that you have read, understood and agreed to be bound Hipersia Terms and Conditions.