Some posts contain compensated links. Please read this disclaimer for more information.
There is nothing more magical, romantic and adventurous than boarding a Greek ferry and sailing the seas to explore the unique beaches of Greece. The Greek islands are blessed with stunning landscapes and feel like an authentic slice of paradise.
While most of us close our eyes and dream of enchanting images of white Santorini, there are so many more Greek islands to choose from that you never know exactly where to start when planning your trip.
First you need to know that the islands are divided into different groups. In addition, some islands are extremely popular with Greek island-hopping tourists, while others, equally enchanting, are almost unknown and offer a great vacation spot for those looking for less crowds… which often come with better prices!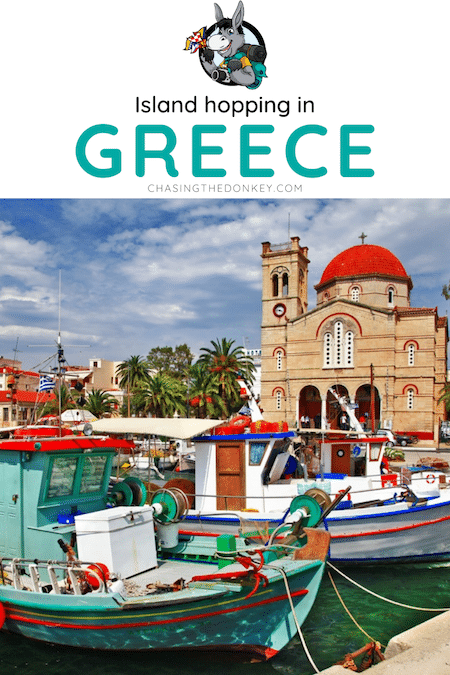 Greek Islands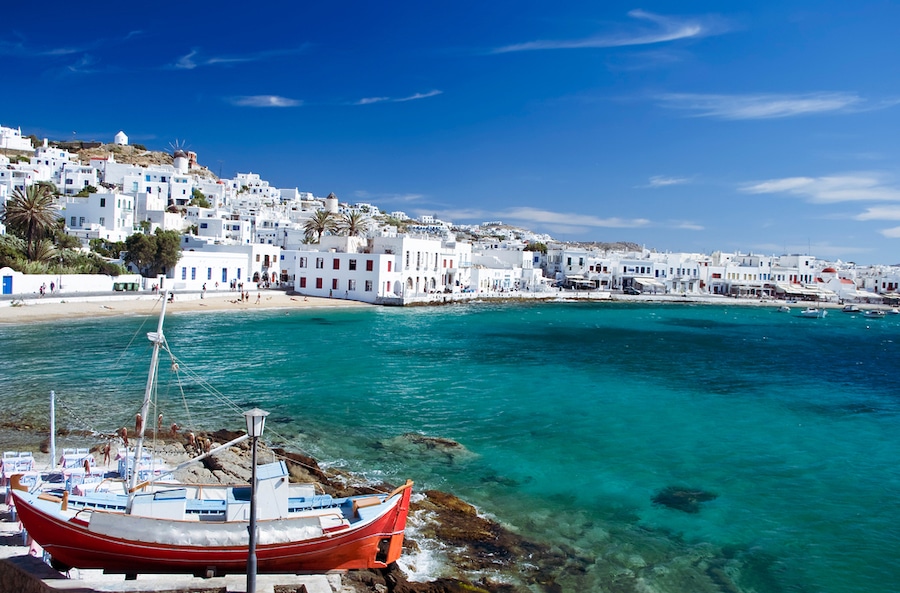 Let's take a look at the islands of Greece:
Cyclades
These are the most popular islands in Greece. When you go to an island in the Cyclades, you can visit beautiful places like Santorini, Mykonos, Sifnos, Syros, Serifos, Paros, Milos, Naxos, Amorgos, Ios, Tinos and Folegandros.
Dodecanese
This beautiful part of Greece includes islands such as Patmos, Samos, Kos, Tilos, Symi, Kalymnos, Leros and Rhodes. The latter is an extremely popular holiday destination and often appears on itineraries around the Greek islands.
You can also book this yacht tour to discover all the hidden gems around Rhodes.
Ionian Islands
These islands are easy to visit when visiting Greece from Italy, one of the many popular Greek island hopping routes. Corfu, Lefkada, Kefalonia, Zakynthos and Ithaca are some of the most famous Ionian islands.
Argo-Saronic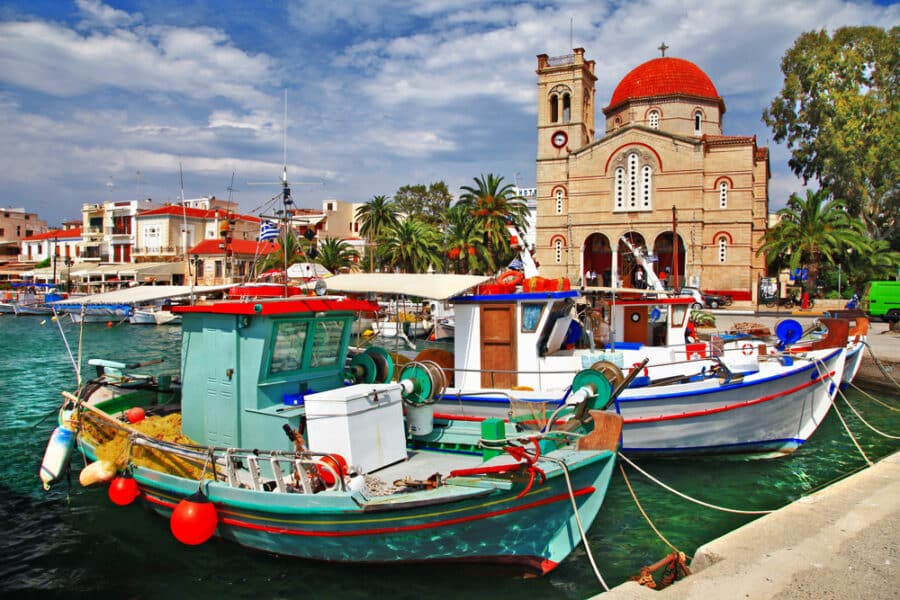 It is easy to get to because they are relatively close to Athens, and the most popular Saronic islands are Aegina, Poros, Hydra, Spetses, Salamina and Agistri.
Crete
Crete is the largest island in Greece. It's a major destination in itself, a place where you could spend a week or more exploring the beaches and ancient sites.
However, Crete is also a very popular destination among people who are island hopping in Greece. It is, for example, a great base from which to visit Santorini on a day trip.
Evia
Evia is the second largest island in the country, which is easy to reach from Athens.
Northeast Aegean
Some of the islands in this group are Lesbos, Chios, Samos, Ikaria and Thassos.
Sporadic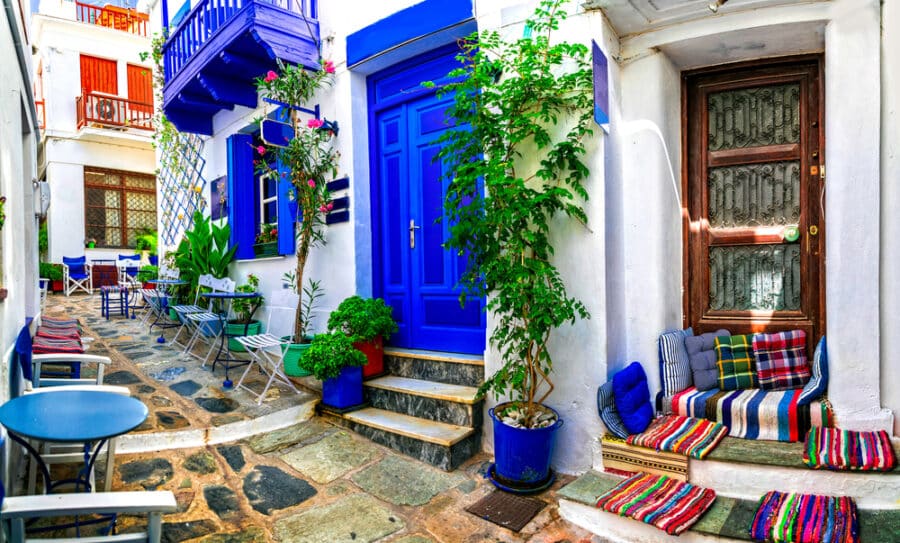 These beautiful green Greek islands include Alonissos, Skyros, Skiathos and Skopelos.
Ferry routes to the most popular Greek islands
When planning your unforgettable Greek island travel adventure, deciding where to go first or how long to stay is a decision that will depend on Greek island ferry routes, schedules and your budget.
Are you ready to start planning your Greek island vacation? Go! This article gives you a broad overview of how to island hop in Greece.
First things first though!
From Athens to the main Greek islands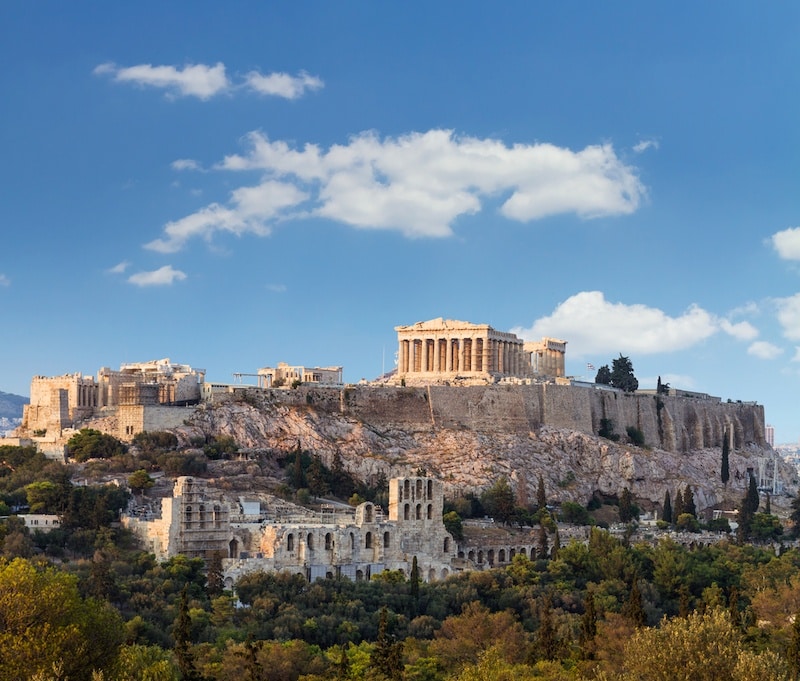 Athens, the capital of Greece, offers access to all the islands, either by plane or by ferry to the Greek islands. Popular islands including Rhodes, Corfu, Crete, Mykonos and Santorini can be reached by flying from Eleftherios Venizelos International Airport.
Athens ferry ports
It is also a popular choice for sea travel. You can reach most of the Greek islands from the port of Piraeus, about 30 minutes from the center of Athens. However, it would be helpful to keep in mind that there are other ports you can also depart from. Lavrio and Rafina are two smaller ports in Athens with regular ferry services to various Greek islands.
From Lavrio: you can reach the islands of Chios, Lemnos, Andros, Folegandros, Ios, Kea, Kimolos, Kythnos, Milos, Mykonos, Naxos, Paros, Sikinos, Syros and Tinos.
From Rafina: instead, it is possible to visit the islands of Crete, Andros, Folegandros, Ios, Amorgos, Mykonos, Naxos, Paros, Sifnos, Sikinos, Syros, Tinos and Santorini.
You can choose between high-speed ferries to the Greek islands that transport cargo on this route. This is ideal if you want to take your rental car or motorcycle with you.
Corfu to Santorini, Crete and Mykonos
There are no direct flights from Corfu to Santorini, Mykonos or Crete. Therefore, if flying is necessary, the best way to get there is to fly to Athens and then take another flight to the island of your choice.
Other alternatives include taking a ferry from Corfu to the mainland and from there boarding a bus to Athens. Once you are in the capital, you can choose a ferry or plane to reach Crete, Santorini or Mykonos.
Another alternative is to get to Larissa from Corfu and take the train to Athens.
Crete to Santorini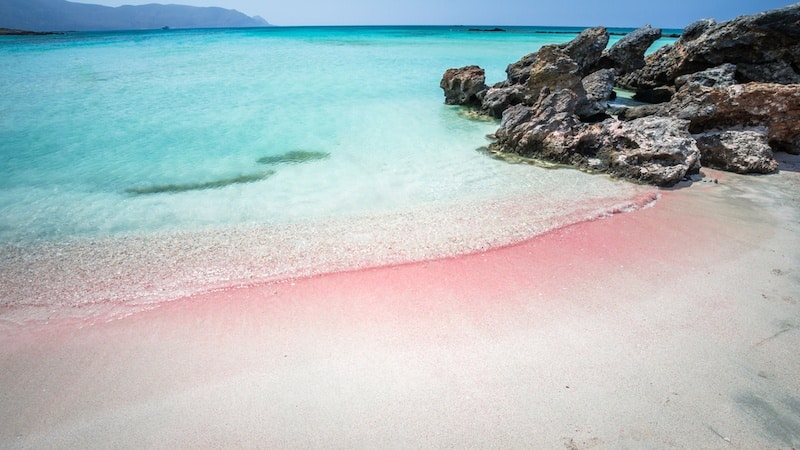 There are no direct flights from Crete to Santorini, but a ferry route connects both islands during the high season with at least 2-3 ferry crossings per day.
The ferry time between these Greek islands is between 2 and 4 hours, depending on whether you take the fast or regular ferry. The price of a ferry trip between Heraklion and Santorini is around 50 euros, and it can be a great day trip if you are staying in Crete. This is one of the most popular ferry routes on the Greek islands.
If you want to travel in style, you can even travel from Crete to Santorini by helicopter!
Rhodes on Crete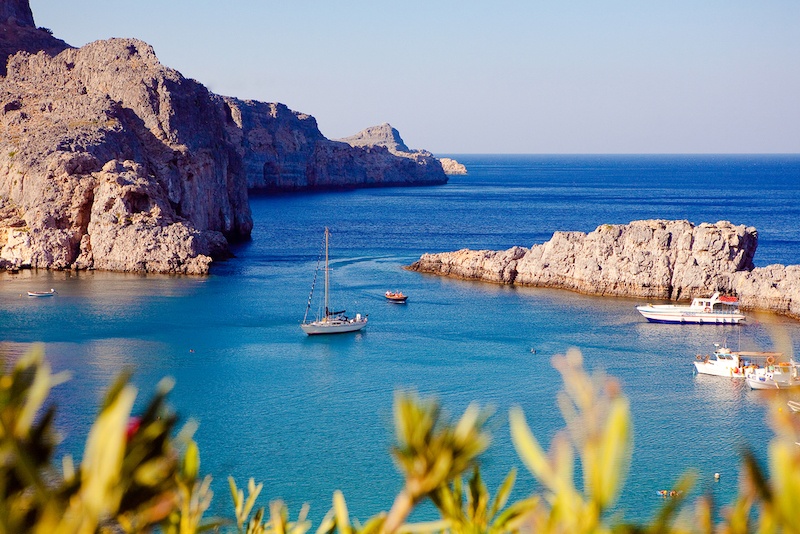 The journey from Rhodes to Crete can be quite long by ferry. This is why most travelers choose to fly from Heraklion, the capital of Crete. The flight time is around 50 minutes and the prices are usually quite high, so booking in advance is a great idea.
The ferry route connecting Rhodes with Crete is covered by the sailing company Aegeon Pelagos. There are four weekly services and journey times are between 11am and 3pm.
It is possible to board the ferry by car, motorbike or motorhome. Since it is such a long journey, the ship offers facilities including restaurants, bars and shops to make the journey more enjoyable.
Mykonos to Santorini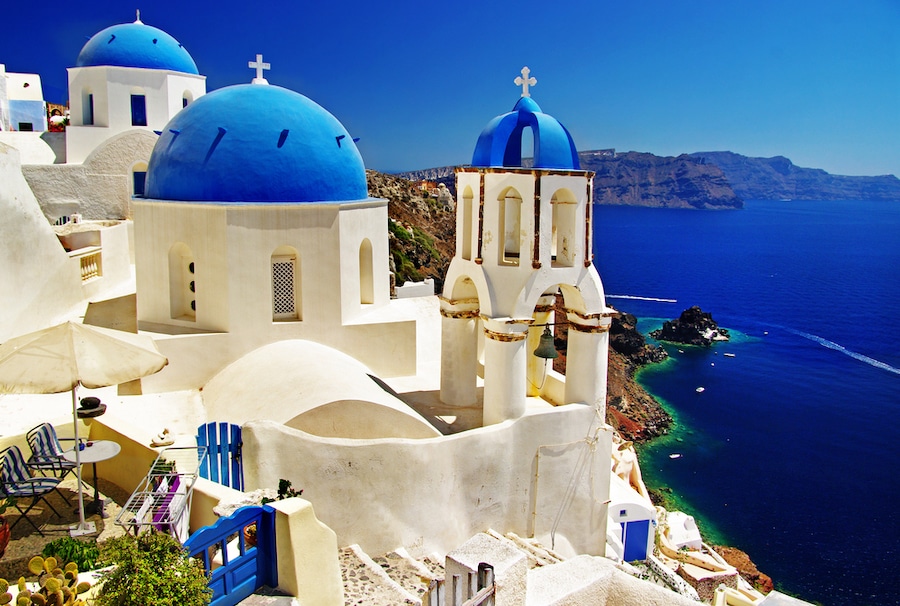 The only way to travel between Mykonos and Santorini is by ferry as there are no direct flights connecting the Aegean islands.
You can save some money by taking regular transport (about 4 hours), pay more and cut your travel time by at least two good hours.
As this is probably the most popular sea route during the summer, it is a great idea to book your ferry tickets in advance. A trip from Mykonos to Santorini is among the best Greek island hopping experiences you can have.
For the best view, you can also travel to this island by helicopter.
Naxos, Paros, Ios to Santorini
These three islands are connected by ferry lines throughout the year, with a significant increase in service during the high season.
The best way to travel between these islands is to board a fast ferry. Ferry travel times between these Greek islands vary from 2 hours to 45 minutes (Paros-Naxos).
These three islands can also be a great escape from the hustle and bustle of Santorini and are the perfect option for a day trip or weekend.
Rhodes to Santorini, Mykonos and other Cyclades
The best way to travel between the Greek Cyclades Islands and Rhodes is to board a ferry to Athens and from there board another ferry to either of the Cyclades (or Rhodes).
It is not common to find ferries departing from Rhodes with a stop in the Cyclades, but if you manage to book a vessel that stops at Naxos or Paros, it would undoubtedly be a winning choice. Check with your ferry operator for the best Greek island hopping route for your trip.
Italy to Greece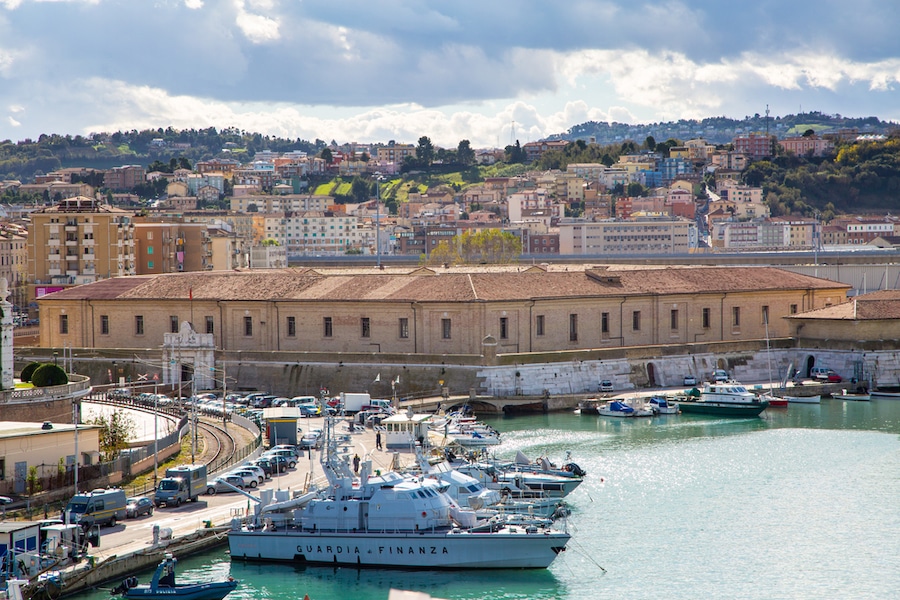 As we mentioned here, traveling from Italy to Greece, there are comfortable ways to connect both countries either by plane or ferry. Ferries depart from the main Italian ports, and most vessels can be boarded by car or motorbike.
Some of the ports are Bari, Ancona and Venice, which usually connect Italy with Greek ports in the Ionian Sea, including Corfu, Igoumenitsa and Patras.
Of course, routes (and prices) increase during the high season, which in Europe runs from June to September.
Which Greek islands have airports
Which Greek islands have domestic airports
Chios
Ikaria
Kalymnos
Kythira
Miloš
Naxos
days
Skyros
Syros
Which Greek islands have international airports
Astypalea
Corfu
Crete
Karpathos
Kefalonia
Kos
Lemnos
Lesbos
Miloš
Rhodes
Samos
Santorini
Skiathos
Zakynthos
The best Greek islands for island hopping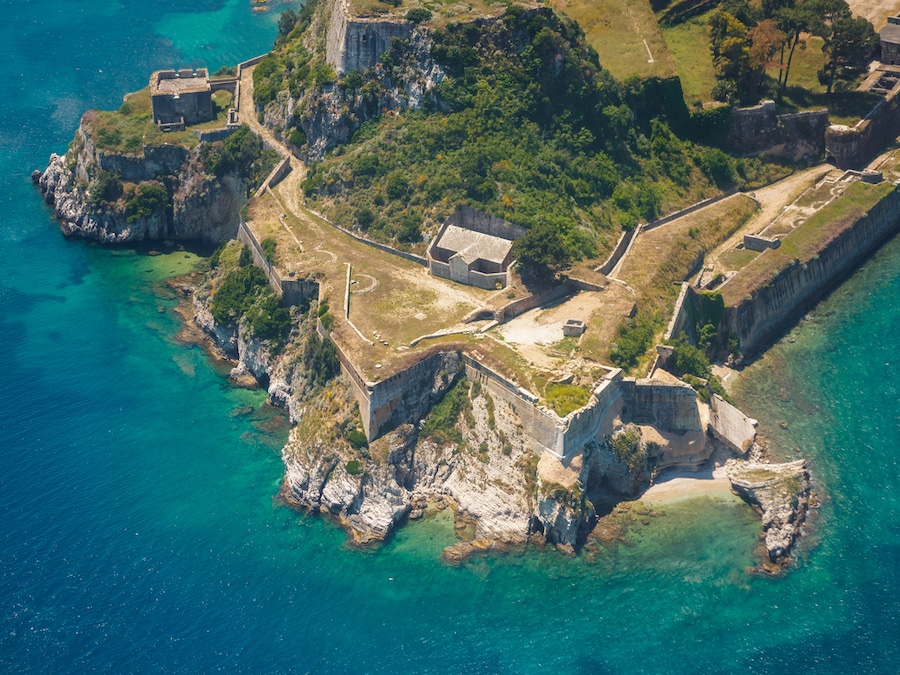 Deciding which Greek islands to include in your Greek island travel itinerary can be difficult. It depends on what activities you like to do and how you would prefer to spend your time on vacation.
Do you like sunbathing and swimming on sandy beaches? Do you dream of drowning in the whitewashed landscapes of Greece? Are you eager to climb mountains and fill your trip with incredible adventures? Want epic Greek nightlife?
There is an island for every taste and every traveler… People usually decide to visit the most popular places either because they heard about them or because some other travelers suggested it.
People often flock to places like Santorini, Mykonos, Corfu, Hydra and Crete, unaware that there are hundreds of other islands worth visiting in Greece.
If you are visiting Greece for the first time and want to discover some islands, the best way to travel around is by ferry. As you can see above, tons of ferries connect the Greek islands, making unforgettable island hopping in Greece super easy.
This is not only the most affordable option when it comes to ticket prices, but it is also a favorite mode of travel for locals. You will immerse yourself in the right atmosphere that will set the pace for a relaxing trip.
One of the best Greek island hopping tips we can give you is: don't race against the clock. The most pleasant way to visit Greece and the islands is to take one place at a time and enjoy it fully. When it comes to a trip to the Greek islands, less is definitely more.
Share